B.E.A.R. Rules
Please take good care of your binder, it will be used all year long.
Clean out the Super Duper Work to keep Folder every evening.
Take your binder home with you every night and bring back to school in the morning.
When you finish your homework, put your binder back in your book bag so you do not forget it!
Keep your BEAR binder clean. Do not eat or drink while using it.
Show your BEAR book to your parents each day.
They will be so glad to see you are learning responsibility.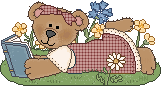 Please do not:
Make any marks or drawings in your binder.
Leave it at home, daycare, in the car, or on the bus.
You are responsible for bringing it to school each day.
Let anyone borrow your BEAR binder or tear pages out of your binder.
Everything should stay in your binder.
Put any papers in your binder that do not belong.
.